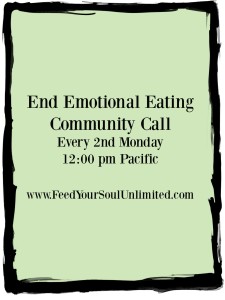 These monthly calls are FREE, packed with information and support to help you out. I promise you will leave the call with something different to do, or with a new way to look at what is going on for you. Want in? Sign up below. This month our topic is:
Holiday Hunger: What Are You Really Hungry For?
Free Teleclass Recording
The holiday season is HERE. It is not a day focused on food, but a whole season. Let's get on the front end of the holidays and make some decisions about how we will approach situations that can be tough to manage. Yes, there is a way to manage the holidays with ease! We are not talking dieting, we are talking practical methods to approach food, emotions, family, and the holidays.
Let's focus on Feeding Our Soul and get into a joyful approach to food and this holidays. There is so much that comes up for people this time of year and it is not always positive. There can be lots of situations you wish you did not have to be a part of. We will discuss how to look at your hunger differently.
Join me on this call as we discuss your questions about food and the holidays:
Why is it so hard to manage food over the holidays?
What is your hunger really telling you?
How can you end the powerless feeling you have around food and the holidays?
There something special about this time and it often involves food. Let's ring in this season right and have a different perspective and approach to the holidays and food!
BONUS
I answered questions live about the holidays and overeating!
Sign up below and get the recording of this call. Sign up now to get in on this month's call. FREE.
Sign up below NOW!