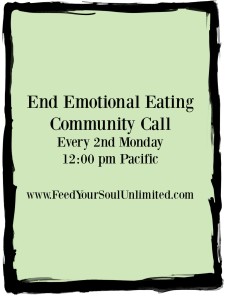 These monthly calls are FREE, packed with information and support to help you out. I promise you will leave the call with something different to do, or with a new way to look at what is going on for you. Want in? Sign up below. This month our topic is:
The Art of Mindful Living:
How to start mindful living RIGHT NOW!
Are you living your life on autopilot?
Too much on your plate?
Not sure how to feel better?
This month's Teleclass is for anyone who feels overwhelmed and stuck. We will look at how our fast paced world has set us up for FAILURE. You feel can feel like a failure at work, home, socially or with food (or possibly in all of those areas).
Learn why too much work, too little passion and overwhelm get you stuck. Learn easy doable ways to get out of this rut right now. Get out of autopilot and start living right now.
Kim McLaughlin will be speaking on this timely topic where we will discover the secrets to mindful living. We will look at how to increase our positive feelings about ourselves.
You'll learn the secret to eliminating every challenge you have?
Get clear on what mindful living can look like for you.
Learn 3 strategies to start practicing NOW.
Sign up now to get the recording of this month's call. This is a topic and information that you do not want to miss.
Sign up below NOW!