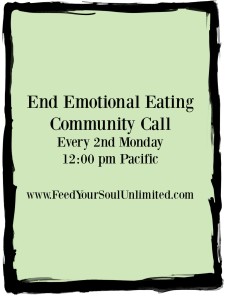 These monthly calls are FREE, packed with information and support to help you end your struggle with overeating. I promise you will leave the call with something different to do, or with a new way to look at what is going on for you. Want in? Sign up below. This month our topic is:
How to End Emotional Eating
Special Question and Answer Call
Monday August 13, 2018
12-12:45 PM Pacific
I am taking YOUR questions and I will answer them on this Teleclass. I am taking all the questions from my Free Facebook Group, Feed Your Soul Community and answering them on this Teleclass. All you have to do it click on the link at https://www.facebook.com/groups/1172488142887200/ and ask to join- it is that simple.
Feed Your Soul Community is a group specially designed to inspire and uplift you on a daily basis. The difficulty with food is ultimately not about the food.
Some of the questions that you might want to know-
Why do I overeat?
How do I make peace with food?
Why do I crave sugar?
If you are not interested in joining our Facebook Group (it is free and packed with supportive information and a community spirit) send me your questions here.
Sign up below and get the log in information for this call, so you can attend LIVE. Don't worry if you cannot come on live, the teleclass is recorded and will be sent out within 24 hours.
Sign up now to get in on this month's call. I am excited to get your questions and answer what you really want to know. This is a do not miss call. Remember, if you cannot attend live, the Teleclass is recorded and sent to you soon after it is done.
Sign up below NOW!