I have always wanted to write a book and I was recently given the opportunity to be a part of a compilation book. Diet is a Four Letter Word is my chapter in my first book Discover Your Inspiration. This is my story about how I ditched the diet and started living a more inspired life. Overall, I wanted tell my story of an alternate to the diet culture that is so prevalent today. I focus in my work helping people end emotional eating and over dieting. Truthfully this chapter was a little scary to write since it is my story.
Come check out my Rockstar Bootcamp video where I get to share from the stage my book, Discover Your Inspiration.
I feel honored to be able to share my book on the Rockstar Bootcamp stage. Here is a fun video from my recent time on the stage at the Rockstar Bootcamp. I got to introduce my new Amazon Best Selling book Discover Your Inspiration to a crowd of hundreds. It felt so exciting to get all of the applause and great feedback on the book. This book is a compilation of stories from various authors. I am proud to be able to share Discover Your Inspiration with the audience at the Rockstar Bootcamp and with all of you.
;
Kim McLaughlin, MA is a Counselor, Speaker, Podcaster and Inspirational Coach who specializes in working with people who suffer from, overeating, emotional eating, binge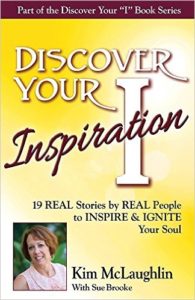 eating and over dieting. She is a Certified Intuitive Eating Counselor. She is the author of the newly released book Feed Your Soul Nourish Your Life! A Six Step System to Peace with Food and the Amazon #1 Best Selling book Discovery Your Inspiration.
 She has recently launched her podcast Feed Your Soul with Kim. You can find it on all podcast platforms, including ITunes. 
 Kim McLaughlin has been identified as writing one of the Top 50 Blogs about Emotional Eating by the Institute on Emotional Eating. Sign up for her free Special Report: Top Strategies to End Emotional Eating here or visit her website at www.FeedYourSoulUnlimited.com.