Here are the Freebies I offered through our Women Empowerment Alliance
These freebies are such a great opportunity for you to get centered and really create change in your life. I am so glad you are here to download and use them. They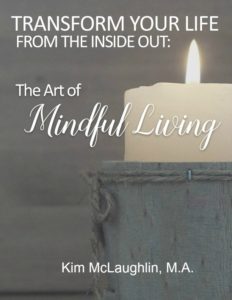 will give you some important insights into how to be more mindful in your daily life. Down load the eBook to read AND download the audio version to listen as you drive or during activities. There are even more free gifts for you if you sign up here: www.FeedYourSoulUnlimited.com/freegift.
The Art of Living Mindfully EBook:
The Art of Living Mindfully Audio:
To get into action be sure to use the journal questions at the end of each chapter. They will help you explore how to live more mindfully.
Lastly, I encourage you to sign up for a FREE Breakthrough Session with me to see what blocks you from living more mindfully. Sign up here.
Peace,
Kim McLaughlin
P.S. Join me on my FREE Feed Your Soul Community Facebook Page. Join our supportive and positive group. We focus on all the components that help feed our soul and nourish our lives. Sign up NOW.
I look forward to hearing what you think about my FREE EBook and Audio. Send me an email letting me know what you got from them. Send your comments here.
Kim McLaughlin, M.A. is a licensed therapist, author, and motivational coach. She helps people move from struggling with food, weight, and dieting into feeling peaceful with food. She has personal experience with overeating and all the pain that goes with it.
Kim McLaughlin has a Master's Degree in Clinical Psychology, which gives her the knowledge, training, experience, and understanding to really help people move out of frustration and into action.
You can receive more of her Free Gifts at www.FeedYourSoulUnlimited.com/freegift.