When my daughter was in preschool, she came home with a paper listing 100 items for a "Summer Bucket List." The paper proclaimed it had 100 fun things to do before summer kicks the bucket. 
This list had many items on it that were associated with summer: 
Swim until dark. 

Walk on the beach.  

Have breakfast for dinner. 
I had heard of a bucket list as being kind of morbid related to what you want to do before you die. It had never occurred to me that it could be expanded to a list you want to do over the summer. 
I looked at that list for a while and decide to make my own Summer Bucket List for me and my family. Now each summer we discuss what activities we want to do. I have learned that the only way to get these kinds of activities on the calendar is to write them down AND put them in the calendar. What is not on the calendar does not seem to get done. 
I like the idea and opportunity this gives us to be creative and ask for what we want over the summer. This list is fluid and can expand or contract as needed. 
This Summer Bucket List is so fun and gets me and my family really thinking about what we each want over the summer. 
I love the Summer Bucket List, because it does not require you to spend any money, unless you want to.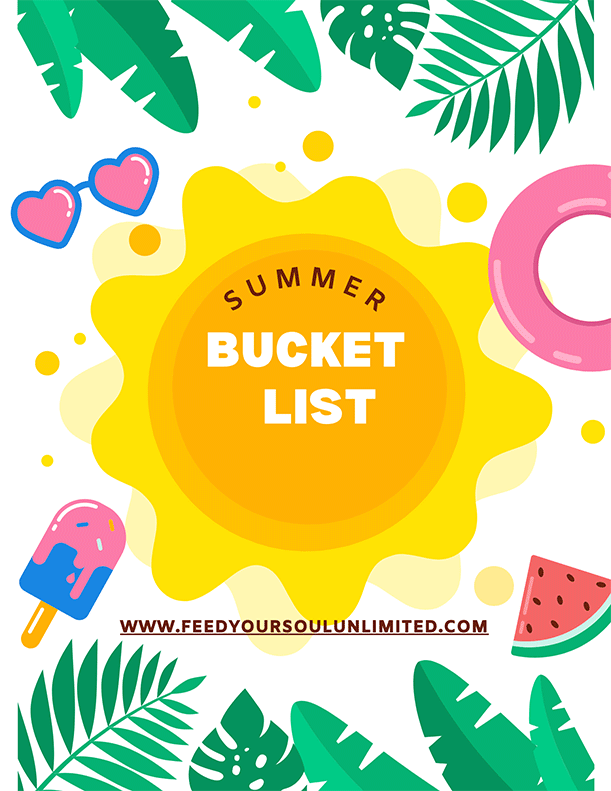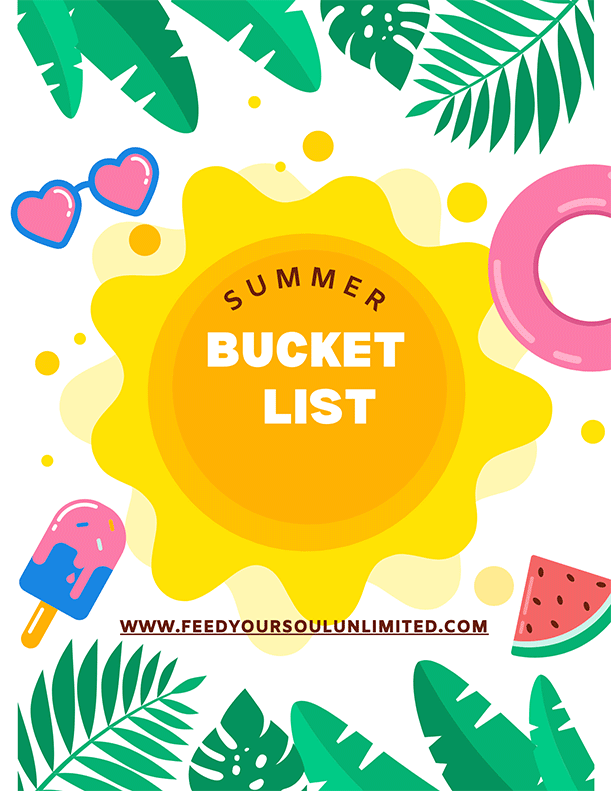 What do you REALLY want to do this summer? 
Each summer I ask clients what they have planned for the summer. Often, they say they do not have much planned. Planning to do something fun IS self-care. The summer is the best time to focus on you and what you want. 
I find it is a time of connection with my family, too, to hear what they want to do over the summer. Sometimes the plans are as a family and sometimes the plans are alone or with others. 
 This summer is a great opportunity to put yourself first and make that list. Have you thought about what fun activities you can do over this summer?
This summer put yourself first on the list. 
Here are some strategies to start your Summer Bucket List. I suggest you spend 15-30 minutes contemplating the below questions.
What do you like to do AND have not done in a while?

What did you like to do as a child during the summer? 

What have never done, but really want to do.

What have you been afraid to do but really want to do?

What would give you pleasure? 

Use the Summer Bucket List to keep track of what you plan to do. 

First write down what you plan to do over the summer. 

Set up dates in your calendar to do them. 

Cross them off when you accomplished them. 

Remember to keep extra spaces on your list to add through the summer.
Enjoying the summer season is just good for you.
Join me this summer and create your Summer Bucket List (download here). Join me in the Feed Your Soul Community Facebook Group where we will support each other to make AND use our Summer Bucket List. Being in community can be the best way to get inspiration and accountability to get your self-care moving forward.