I was in church last Sunday and the music minister said she had a term for the holidays: she calls them the holidaze. I resonated with the word holidaze and began to think of how much this season seems to leave me in a daze. The daze of shopping, eating, drinking, people, parties, and doing more than I really want to do or have time to do. With this look at the holidaze, I have been realizing how much I have self-imposed busyness over this season. I am the one who makes my schedule and decides what I will and will not do. The busyness actually turns in to stress, which comes when I do not plan my time well, when I am not proactive, or when I do things I really don't want to do.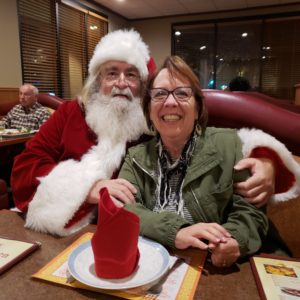 As I have been focusing on decreasing my stress in general, it has become even more important to let go of the holidaze over this season. I have been proactive in regards to getting all of the shopping done, meals planned and event scheduled. Anyone who knows me well knows that I am what many would call a "last minute shopper." I've had shopping on Christmas Eve down to a science and felt proud that I could get it all done. I, also, would stay up until very late on Christmas Eve (even into the wee morning on Christmas Day) to get all of the wrapping done. I have realized that this can lead to more stress and this year I vowed to do it differently. I have been looking at ways I cause myself stress and how I can stop it. 
Since I have been thinking more about how I want to slow down this holiday (as well as my life in general), I had to have a plan of action. Here are some of my plans:
Be present. I give the gift of myself when I focus on the person or event I am engaged with. No cellphones or electronics to distract.  
Get quiet. Practice engaging in being peaceful, joyful and positive.
Be realistic. Determine what can really get done and let the rest go.
Smile. A smile brightens the day for everyone (including me).
Say, "Thank You." Take the time to acknowledge any helper.
Check in with myself. Take a moment and ask myself, "What is it I really want to do?"
Mark the time as important. Make each moment precious. Look people in the eyes. Listen deeply.
Have fun. Enjoy myself with child-like wonder. This is a season with marvelous beauty around every corner. Drink it in and experience it.
Practicing this plan helps me to move out of living in the holidaze. It has meant I have had to be more conscious of what I am doing. Being conscious in this way, also, requires that I say no to the tasks or activities I do not want to do. The win is this newfound plan has led to me to be proactive in getting tasks done, so I can spend time cooking, making crafts, resting and reading. It, also, means I can accomplish my plans in a leisurely fashion. Lastly, it allows me to be fully present with others that I chose to spend time with.
Do you want to move out of the holidaze? How about making some different plans for yourself? Chose what you will do differently and DO IT. Many items on my list are easy to do: smile, say thank you, be present. Chose something that will move out of the frenzy and into peace. It is a simple gift you give to yourself that will have a profound effect.
Kim McLaughlin, MA is a Counselor and Inspirational Coach who specializes in working with people who suffer from binge eating and emotional eating. She is a Certified Intuitive Eating Counselor. She is the author of the Amazon #1 Best Selling book Discovery Your Inspiration and soon to be released book Feed Your Soul Nourish Your Life! A Six Step System to Peace with Food.
Kim McLaughlin has been identified as writing one of the Top 50 Blogs about Emotional Eating by the Institute on Emotional Eating. Sign up for her free Special Report: Top Strategies to End Emotional Eating here or visit her website at www.FeedYourSoulUnlimited.com.