Truthfully, the number 1 question I get is:
How do I End Overeating?
Often people think it is a secret. So, I am offering the 6 Secrets to End Overeating a free live Webinar on Friday 7/30 at 12:00 pacific to answer that question. 
Why should you attend this webinar?
You find that you eat when you are not hungry? 

You end up eating more than you planned, and then feel afraid you will gain weight? 

You find that you eat for emotional reasons?
You are a smart person and can't seem to figure out how to stop the battle with food and your weight. You have tried diet after diet, and nothing seems to work for the long haul. It can seem like there is no way out of the cycle of dieting, overeating, and then feeling guilty from gaining weight. Now, you will learn how to end overeating. 
Join me live on Friday July 30 at 12:00 Pacific to get all the answers to your question.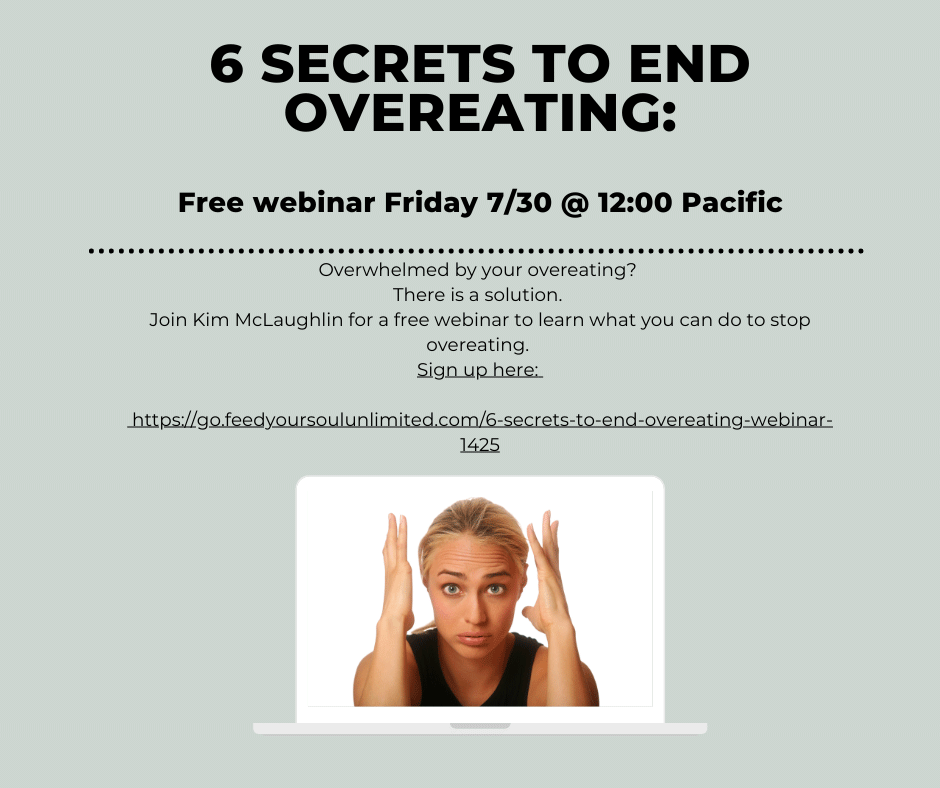 Sign up in advance to get the link. No problem if you cannot attend live, it will be recorded, and you will have access to it later in the day. 
You will learn:
The 6 secrets to end overeating. 

See how overeating is not about what you think it is about.

Identify a doable at the end of the webinar that will have a profound impact. 
😊Looking forward to seeing you at the webinar.  
Peace,
Kim
P.S. Trust me you do not want to miss this webinar. Sign up now: https://go.feedyoursoulunlimited.com/6-secrets-to-end-overeating-webinar-1425