This year for Mother's Day I decided I would ask for what I want. I was specific about the whole thing: where I want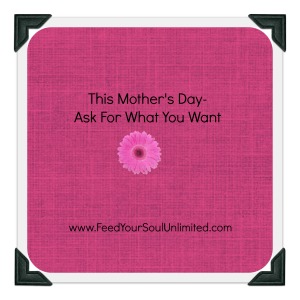 to go, what I want to do, and where I want to eat. I have morning, noon, and night mapped out. Normally I go with the flow and do not get so specific. I realized how much I was relying on others to read my mind and figure out what I really wanted to do and I would sometimes be a little disappointed when plans weren't what I thought they should be.
I decided I was not going to beat around the bush nor make little subtle suggestions; I was going to outright ask for what I wanted. I think sometimes we expect our partners, family members, or our children to know what we want. I have to remind myself that they cannot read my mind.
Do you ever really ask for what you want? I know that no is the response the other can give you, but I decided it was important to at least ask specifically for what I wanted.
If you are a mother and have a specific idea about how you want to spend Mother's Day, ask for it. You deserve to ask for what you want.
If your mother, wife, or partner has not told you what she wants to do, ask her. She might surprise you with her answer.
Here's to all the mothers. I plan to have a great day because I am going to do exactly what I want. What do you plan to do? I would love to hear what you have in store for Mother's Day. Feel free to post it below.
Kim McLaughlin, MA is a Counselor and Motivational Coach who specializes in working with people who suffer from binge eating and emotional eating. She is a Certified Intuitive Eating Counselor. 
Kim McLaughlin has been identified as writing one of the Top 50 Blogs about Emotional Eating by the Institute on Emotional Eating. Sign up for her free Special Report: Top Strategies to End Binge Eating here or visit her website at www.FeedYourSoulUnlimited.com.